Dr. Nazia Adeel
Assistant Professor of Accounting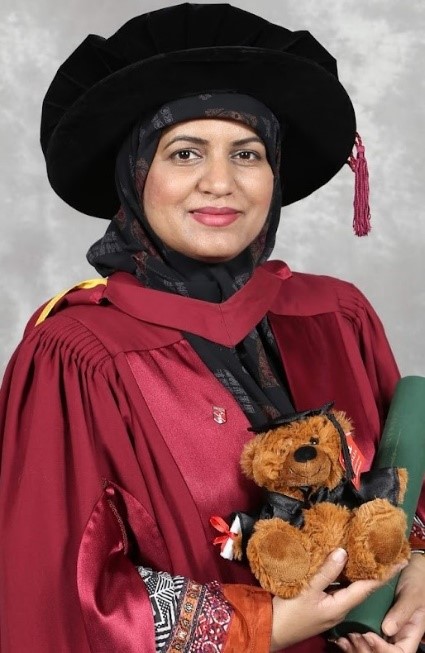 Biography:
Dr Nazia Adeel has experience working as an Academic, Unit Coordinator, Learning Advisor, Research Project Manager, Auditor and Business Mentor and is currently working as an Assistant Professor in Accounting at Al-Yamamah University. Dr Nazia holds a PhD in Accounting and Corporate Governance from Macquarie University and a Master's degree in Financial Management from Australian National University in Australia. She is a Certified Trainer and Assessor from Australia and holds a Teaching and Learning (FiTL) Certificate, from Learning and Innovation Hub at the Macquarie University in Australia. She also holds a Master of Research (Science) degree from Pakistan and an undergraduate degree in Applied Psychology. She has also worked as a Research Project Manager in mentoring projects specially designed for employability skills training of accounting graduates in Australia.
Previously she has worked as Deputy Director of Audit and Administration at the Auditor General of Pakistan and Control General of Accounts in the Civil Services of Pakistan. She is a Certified Public Finance Accountant by PIPFA (an associate body for IFAC). She has extensive research experience in these specializations (quantitative research, experimental methodologies, survey design (Qualtrics), interviews (NVIVO), data analysis (SPSS), and academic writing) within the Accounting, Auditing and Corporate Governance areas. She has held several additional roles as Conference presenter/Discussant/Moderator at international conferences in Indonesia (2016), (Hawaii) the USA (2016), Spain (2017), Australia (2017, 2018) & Pakistan (2011). She has versed in Online education tools (Moodle, Canvas, iLearn, Zoom, Collaborate).
Research interest includes Cultural impacts on auditing accounting and corporate governance. Additionally interested in understanding student mentoring projects and collaborating with the industry to enhance employability skills in accounting graduates.
Dr Nazia is a passionate, interactive and a committed teacher. She has experience of teaching students from almost all parts of the world. She believes cultural acumen is a must have to survive in the multicultural organizations of today and supports her students to learn this skill apart from the accounting knowledge! Her teaching philosophy revolves around mentoring, she believes in training her students toward self-reliance and independence, she aims to teach them a "skill of learning" so that they can become independent, confident, self-reliant and successful in this highly competitive digitized world. She is a mother of three children, plays tennis sometimes and loves cooking and baking!!
Publications:
Research Paper from my PhD thesis titled, "Islamic Religiosity and Auditors' Judgments: Evidence from Pakistan" is published in the Journal of Business Ethics (ranked A by the Australian Business Deans Council; top 50 by the Financial Times, UK Impact factor 4.141), https://rdcu.be/ckmnn
Research papers under progress and review include, "Creating a scholarly community: Transforming the doctoral experience through peer mentoring to be submitted to "Journal of Intercultural education" and "Role of mentoring in enhancing higher education employability in Accounting Students" to be submitted to "Journal of Intercultural education."
Conferences:
Conference paper titled, "Creating a scholarly community: Transforming the doctoral experience through peer mentoring" presented at the 13th Quality in Postgraduate Research Conference (QPR2018) 17-19 April 2018, National Wine Centre, Hackney Road, Adelaide, Australia.
Experimental Research Methodology poster presentation during the Macquarie University Contemporary Accounting Research Conference held on 14-16 March 2017 in Sydney, Australia.
Conference paper titled, "The influence of client religiosity and gender on auditors' audit evidence reliability," presented at the 40th Annual Congress of the European Accounting Association Congress" held from 11-13 May 2017 at Valencia, Spain.
Conference Paper titled, "Influence of religion and culture on auditing judgment and decision making, a literature review" during the AFAANZ Conference held from 1-2 July 2017 in Adelaide, Australia.
A conference paper titled, "The influence of religiosity on auditors' conservatism judgments" was selected for presentation at the 29th Asian Pacific Conference for International Accounting Issues on 5-8 November 2017, in Kuala Lumpur, Malaysia.
Conducted two workshops on Methodological contributions and Innovative & multidisciplinary perspectives on audit judgment research during the 1st International Conference on Economics, Business and Accounting at Padang State University, Padang, Indonesia between September 21st -23rd 2016.
Conference paper titled, "The influence of religiosity on auditors' preference for principle-based or rule-based judgments," presented at the 28th Asian-Pacific Conference on International Accounting Issues" 6-9 November 2016, Hawaii, USA.
A conference paper titled, "Media and electorate interactions in Australian financial management context" was presented at the 4thInternational Accounting and Business Research Conference held on 28-29 November 2011 in Islamabad, Pakistan.
Teaching:
Teaching experience in the following subjects at Al-Yamamah University:
Financial Accounting
Auditing
Introduction to Management Accounting
Advanced Management Accounting
Advanced Financial Accounting-II
Accounting Information Systems
Previously taught at:
Online Learning Advisor and Unit Coordinator at Western Sydney University Australia (Financial Reporting, Auditing and Assurance Services, Accountant as a Consultant)
Lecturer and Unit Coordinator Kent College Sydney (Advanced Financial Reporting, Accounting Information Systems, Auditing and Assurance Services, Business Valuation and Analysis)
University of Sunshine Coast Australia (Informatics and Financial Applications)
Macquarie University Australia (Accounting and Society)
Islamic International University Pakistan (Corporate Governance)
Services:
Previous volunteer roles and services include:
Academic Board Member (Lecturer's representative) Kent Institute Sydney, Australia December 2018-April 2019
RareBird, Skills Development Mentor September-2021
Higher Degree Research Mentor 2015-2019
Student Mentor to Ph.D/Master by Research students from diverse backgrounds.
Member European Accounting Association (EAA) 2017
Accounting, and Finance Association of Australia and New Zealand (AFAANZ) 2018
Conference Chair at European Accounting Association Congress, Valencia, Spain, 2017
Toad Hall environmental society member, 2010