Hossameldin Eid
English Language Instructor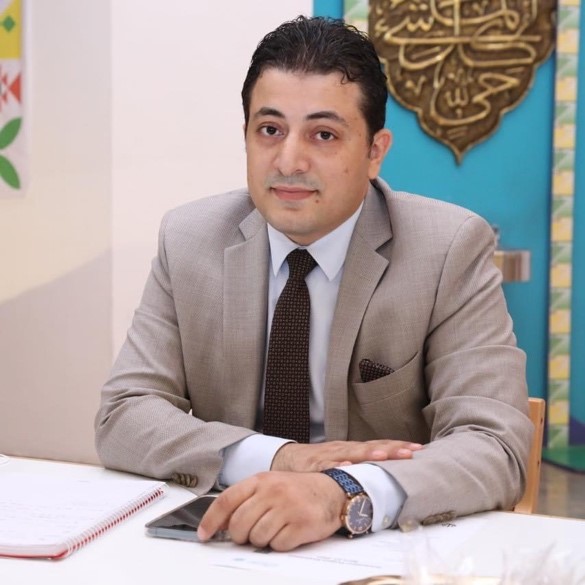 Biography
Motivated and experienced English Language instructor with a demonstrated history of working in the education management industry. Skilled in English as a Second Language (ESL), literature, classroom management, lesson planning, and Teaching English as a Second Language, educational technology, creative problem solving, staff development, teacher mentoring, and collaborative leadership. He aims at acquiring numerous skills and talents during his educational career, which demands professional dealers with humanity due to its honorable rank.
Conferences and Courses
Attended and participated in a course titled "Do you speak Human Rights Language?", belonging to "Cairo Institute for Human Rights Studies", Kaod Hotel, Alexandria, Egypt, on December 16-20, 2008.
Has successfully completed comprehensive workshop in "Effective Communication Skills" with Dr. Ibrahim El-Fikky, president of the Canadian Training Center of Human Development Inc, Canada, April 2007.
Teaching English in Int'l Contexts April 2008 (American University in Cairo, Egypt)
Has successfully completed comprehensive seminar in "How to develop a superpower memory" at "TRACK", Human Development training Center, Cairo, June 2008.
Practiced cross-cultural communication skills: Participated in events, summarized lectures, made observations and recommendations, synthesized conclusions, shared information, led small discussion groups, and edited conference reports.
"The US Elections 2008", Smeramis Hotel, Cairo, Egypt on November 1,2008.
"Beyond Borders: An Egyptian-American Dialogue", Rare Books Library, Cairo, Egypt on May 2-3, 2008
"Are Islam and Democracy Compatible?" AUC Campus, November 4-5, 2007
US-Arab Relations: Going Where? Oriental Hall, AUC Main Campus, March 4, 2008
Who Benefits from the Suez Canal? Blue Room, February 11, 2008
Attended a series of workshops about American political, economic, and social issues (2008:2010, different countries around the world)
"English for Academic Purposes", Ramada Hotel, Jeddah, 2011
"IELTS Training", British Council, Jeddah, 2012
"CELTA", The University of Economics, Izmir, Turkey, 2014
"Comprehensive OET training", Cambridge Boxhill Language Assessment Trust (CBLA), 2014
"PET Speaking Examiner", College of Excellence Headquarter, Riyadh, 2017
"Train the Trainer", ITI, Istanbul, Turkey, 2020
Teaching
ESL/EFL: English as a second/foreign language
ESP: English for Specific Purposes (Health and Safety, Information Technology, Business, Mechatronics)
EVP: English for vocational Purposes (Safety officers, electricians, welders, and pipefitters)
Upskilling Program for Healthcare Professional (Ministry of Health, 2018)
OET, PET, APTIS, IELTS trainer and examiner/interlocutor (at different institutions)
Services
English Trainer (English for Vocational Purposes) – June 2019 June 2020
Canadian Petroleum Services, Saudi Arabia
Designed and delivered creative lesson plans to reach a diverse student audience.
Selected and revised course curricula to meet current instructional demands.
Adapted teaching strategies to learning styles of students with different skill levels.
Led groups of youth in discovery exercises and offered personalized support to individuals in need of extra assistance.
Immersed students in unfamiliar cultures by devising hands-on activities.
Defined and articulated learning outcomes, including measurements, performance metrics and changes to improve student learning.
Performed duties in accordance with all applicable standards, policies, and regulatory guidelines to promote safe working environment.
Led projects and analyzed data to identify opportunities for improvement.
Foundation Year and Eng. Dip. Coordinator Sep 2017 -Aug 2019
International Technical College - Laureate Saudi Arabia
Efficiently managed day-to-day educational aiding operations, including lesson planning, student guidance, curriculum implementation and continuous improvement of industry best practices.
Evaluated the proposed curriculum and provided budgetary analysis and tracking for all programs and events.
Instituted new approaches to teaching English to students, resulting in improved test scores.
Liaised with campus leaders to highlight program courses, achievements, and events, helping to strengthen recruitment efforts.
Collaborated with teachers to understand and improve classroom conditions.
Processed new enrollment applications and tracked students' progress to foster academic success.
Collaborated with fellow educators' invaluable knowledge sharing sessions focused on improving student success.
Exceeded goals through effective task prioritization and great work ethics.
Created teaching materials and developed engaging lesson plans for PET Modules.
Administered PET testing to maintain secure testing locations and honest test results.
Spoken English and IELTS Trainer Oct 2010 - May 2013
Proleaders Language Institute, Saudi Arabia
Sourced appropriate course materials to support a variety of student learning needs and styles and deliver content in relevant, distinctive ways.
Kept appropriate office hours to help students with questions and educational support, encouraging struggling students to seek assistance.
Developed and implemented interesting and interactive learning media to increase student understanding of course materials.
Worked in a collaborative environment with fellow members to design curriculum for ESP courses.
Presented new ideas for learning engagement to the administration for approval.
Completed recordings via video and audio media of classroom lessons, tests and special instructions for online courses and use by special needs students.
Created teaching materials and developed engaging lesson plans for IELTS Modules.
Proctored IELTS testing to maintain secure testing locations and honest test results.
Throughout that, I have developed skills in all aspects of teaching involving a variety of teaching components:
Clarity of course goals.
Relevance and appropriateness of course content.
Effectiveness of instruction in lecture, labs, discussion, studios, and other activities.
Cordial relationship with students, challenging them, and supporting their learning.
Measures of student performance.
Presentation of courses serving the aims of the unit or the course.