Raheel Gohar, Ph.D.
Associate Professor of Finance and Accounting and Finance Department, Chair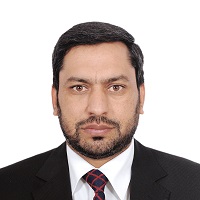 Dr. Raheel is working as an Associate Professor of finance at the College of Business, Al Yamamah University. He has more than 15 years' experience of corporate, teaching and research.
He served in key administrative and leadership positions, such as a head of finance department, member in College Council, member curriculum review committee, member board of studies, member of strategic planning committee, member of academic council, head of quality assurance unit and PhD program coordinator.
Dr. Raheel has a PhD in Finance from Hacettepe University Ankara, 2008 and he earned MBA finance and BBA degrees from Peshawar University, Peshawar. He was awarded Cultural Exchange Scholarship 2002 to 2008 for his PhD program offered by the Ministry of Education, Pakistan. He was winner of PhD research fellowship Award (BIDEB) offered by Scientific and Technological Research Council of Turkey (TUBITAK) Oct. 2006 – Sep 2007. He is a member of Asian Finance Society and Society for the Study of Emerging Markets.
His research interests include: corporate finance, corporate governance, family enterprises, financial statement analysis, derivatives and equity valuation. He has 14 research papers published in different journals and has presented his research work in conferences around twelve different countries.
His research has been published in high quality peer-reviewed international journals, such as the Journal of Business Ethics, Emerging Markets Finance and Trade, and International Journal of Intercultural Relations.
Areas of Expertise
Corporate Finance
International Finance
Investment Analysis
Corporate Governance
Firm's Valuation
Family enterprises
Asset valuation
Derivatives
Selected Refereed Journal Articles
Gohar (In press). Managerial Entrenchment Hypothesis and Dividend Payout Policy. Afro-Asian Journal of Finance and Accounting (with A Rashid).
Gohar (2018). Economic Integration and Stock Market Comovement: An Empirical Study Pairing Pakistan's Stock Exchange with 21 other Markets. Journal of Reviews on Global Economics 7, pp. 28-26 (with S Shah and H Ahmad).
Gohar (2015). Impact of Corporate Governance on Performance of MFIs: A Case from Pakistan. Emerging Markets Finance and Trade Vol. 51 (06), pp. 94-106 (with A Batool).
Gohar (2013). How should Saudi Monetary Agency Look at the Money? World Applied Sciences Journal 26(3), pp. 377-381 (with Z Abbass).
Gohar (2011). Performance Comparison of Mutual Funds in Pakistan. African Journal of Business Management Vol. 5 (14) pp. 5583-5593 (with S Ahmed and U Niazi).
Gohar (2009). Effects of personal values on auditor's ethical decisions: A comparison of Pakistani and Turkish Professional Auditors. Journal of Business Ethics Vol.88, pp.53-64 (with S Karacaer, M Aygün).
Gohar (2007). Transformational leadership: Its relationship to culture value dimensions. International Journal of Intercultural Relations Vol. 31, pp. 703-724. (with A Ergeneli and Z Temirbekova)
Gohar (2006). Attitudes toward Women Managers in Turkey and Pakistan. Journal of International Women's Studies Vol. 8 (1), pp. 199-216 (with S Güney, MM Akıncı).
Book Chapters
The effect of corruption on country-level investment: The case of Pakistan. Emerging Fraud, 2012, pp 133-145. Springer.http://link.springer.com/chapter/10.1007/978-3-642-20826-3_9#
Cultural universal aspects of transformational leadership: A study on six culturally different non-western countries. Advances in Sociology Research, NOVA Publishers, pp 57-78. https://www.novapublishers.com/catalog/product_info.php?products_id=24224
Selected conference presentations
Managerial Entrenchment Hypothesis and Dividend Payout Policy. 3rd International Conference on Applied Economics and Finance, 6-7 December, 2017, Girne, North Cyprus.
Economic Integration and stock market Comovement. 9th International Finance Society Conference, 10 - 11 March 2017, Paris, France.
Business Group's diversification and firm value: A comparison of Pakistani Business Group Affiliated and Unaffiliated Firms. 3rd International Conference on Corporate Governance in Emerging Markets on 28-29 May 2011 at Korea University Seoul, Korea.
Achieving the Optimal Capital Structure and its Impact on Pakistani Banking Performance. Asia-Pacific Business Research Conference, 21-22 February 2011, Kuala Lumpur, Malaysia.
Corporate Governance in Pakistan. International Conference on Governance, Fraud, Ethics and Social Responsibility, June 2009, Istanbul, Turkey.
Business Group's Diversification and Firm Value: Evidence from Pakistani Business Group Firms. Fifteenth Annual Conference of the Multinational Finance Society, July, 2008, Orlando, USA.
Work Ethics value of Pakistani, Kazakh and Turkish Managers. 21st European Business Ethics Network (EBEN) Annual Conference, 2008, Antalya / Turkey.
Cultural-universal and Culture-specific Aspects of Transformational Leadership: A Comparison of Six Non-Western Countries. Jepson School Summer Institute for Leadership and the Liberal Arts, 2008, Richmond, USA.
Comparison of Transformational Leadership Aspects in Non- Western Countries: Pakistan, Kazakhstan and Turkey. Ninth Annual Global Leadership Conference, 2007, Vancouver, Canada.
Current Teaching
FIN 312: Financial Management using Excel
FIN 313: Financial Institutions and Markets
FIN 415: Corporate Finance
FIN 508: Managerial Finance
Graduate Teaching
Managerial Finance
Principles of Finance
Corporate Finance
Undergraduate Teaching
Introduction to Finance
Investments
International Finance
Portfolio Management
Derivative Securities
Risk Management and Insurance
Financial Policy
Coordinator of the Finance Department, Al Yamamah University, 2019 – present.
A member of the Strategy Committee at Business Council, Al Yamamah University, 2019 – present.
The Chair of the Appeal Committee, Al Yamamah University, 2016 – 2018.
The Chair of the Finance Department at Dar Al Uloom University, 2013-2015.
A member of the Accreditation Committee at Dar Al Uloom University, 2013 – 2015
A member of the College of Business Council, Dar Al Uloom University, 2013 – 2015.
Coordinator of PhD Program, National University of Sciences and Technology (NUST), Islamabad, Pakistan, 2009-2011.
A member of Curriculum Review Committee, National University of Sciences and Technology (NUST), Islamabad, Pakistan, 2009-2011.